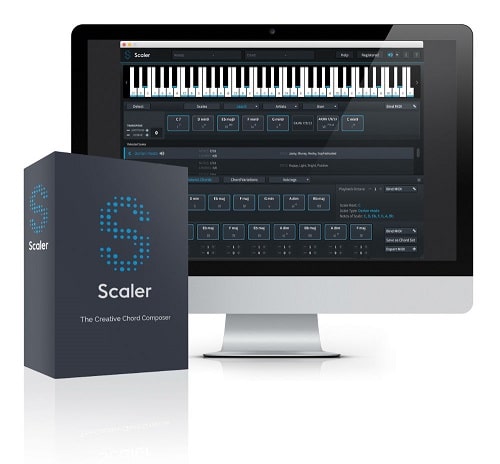 Plugin Boutique Scaler v1.7 WIN OSX
Size 380 Mb
Scaler is a unique and inspirational MIDI effect that makes finding chords and progressions intuitive and fun! With note detection, scale selection and chord suggestions, Scaler is a comprehensive but easy-to-use toolbox that will help anyone make better music.
A first of its kind, Scaler can determine what key and scale you're in and suggest chords that match your music, or it can inspire a tune from scratch by providing a set of initial chords in an unexplored key. With the onboard bank of over 2,000 scales and modes including genre and artist presets, there's more than enough to keep the juices flowing.
Once you've determined a scale, Scaler lays out basic diatonic chords for you to audition, and lets you take things further with dozens of chord variations and voicings to try out. Theory buffs can also get an insight into each chord's harmonic function.
Ready to put together a progression? Simply drag and drop chords into Scaler's sequencer, change up octaves and inversions, edit the voicing, and record or drag the progression into your DAW.
New Features in Version 1.7
Scaler 1.7 introduces several new user requested features, enhancements and bug fixes. There are 30 new Blues, Latin and Bossa Nova chord sets and over one hundred new scales including all the modes of the melodic and harmonic minor scales. You can now re-detect from the chord builder and you can preview chord sets with one click or copy all chord sets to the builder with one click. Scaler 1.7 also includes 5 new Bass tunings for the Fretboard and quickly allows for chord expansion by adding 7th, 9th, 11th and 13th to entire chord sets.
30 New Chord Sets – Blues, Latin & Bossa Nova
5 New Bass Tunings – Fretboard now supports bass tunings with 4,5 and 6 strings.
Over one hundred new chord sets including all the modes of the harmonic and melodic minor scales.
Re-Detect from builder – Find which scale fits your progression anytime in your creative process.
Preview chord sets – Play through any progression preset in one click.
Copy-to-Builder – Move all chords from a progression directly into the builder for a faster editing.
Diatonic chords improvements – Quickly navigate between triads, 7th, 9th, 11th, 13th chords of any scale.
Improved chord naming – More chord definitions and simplification of existing chord names for improved readability.
Small screen support – Allow smaller UI resizing to support smaller screens and resolutions.
Bug fixes and performance improvements
Links