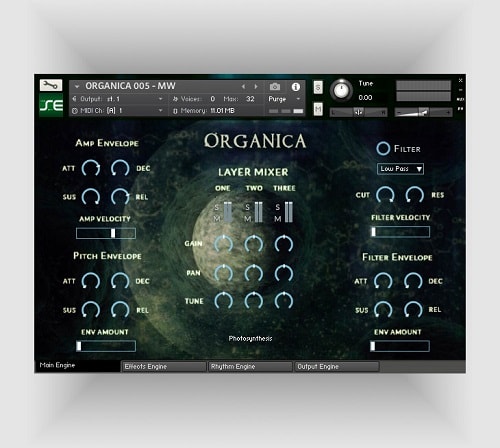 Soundethers Organica KONTAKT LIBRARY
Size 747 Mb
ORGANICA is a collection of tonal textures, blended with spacious field recordings (you'll notice a wide stereo field). The Mod Wheel makes every pad pulse in sync with your Host/DAW, and adds a huge reverb to all field recordings. "ORGANICA" is an instant atmosphere builder with lot of personality. ​
You'll find SOLO pads, DUO combinations of two pads, and a TRIO section with two field recordings layers and a pad which fades in when you use the Mod Wheel.
The MULTIS folder contains pads and low mapped fields, blended together; you can obtain dronish soundscapes very easily, perfect underscores (use the mod wheel and the fields will be reverbered while the pad will start pulsing).
​
TECH SPECS
850 Mb unzipped
84 patches (nki/nkm)
48 original files of pure pleasure
wave 44.100 / 24 bit
Mod Wheel assigned to all patches (please try it…)
built in the Photosynthesis Engine
NOTE: you need the FULL VERSION of Kontakt 5.5.2 to use this library. It will NOT WORK in the Free Kontakt Player (runs only in "demo mode" for 15 minutes!!).
Organica, Tonal Textures and Field Recordings
Demo Preview: