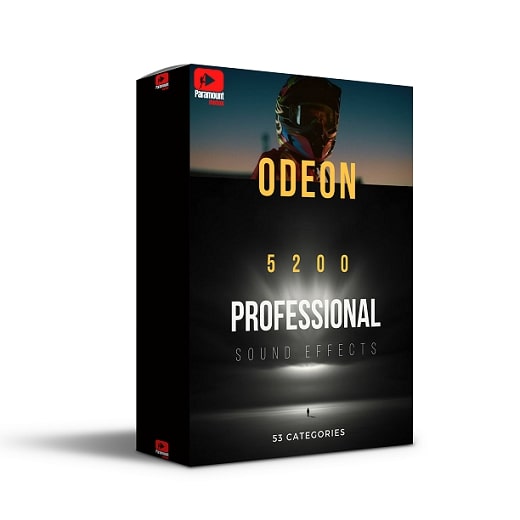 Paramount Motion ODEON Sound Effects WAV
Ultimate Cinematic Sound Effects Pack
Lose yourself in 5200 Professional Royalty Free Cinematic SFX
Make them yours.
Mastered by professional sound designers.
Compatible with any major video / sound editors.
Direct digital download.
Easy to use.
Really well organized.
Use anywhere, from YouTube monetization to commercial use worldwide
Sound is important because it engages audiences: it helps deliver information, it increases the production value, it evokes emotional responses, it emphasises what's on the screen and is used to indicate mood. When put to good use, language, sound effects, music, and even silence, can elevate your video dramatically. Bad sound sound effect, however, can ruin your video. And yet, audio is often left as an after-thought for post-production, which is crazy because no amount of editing magic can fix bad sound.
Sound Effects adds emotion
and connects people to what they're seeing. It supports each visual and every cut, and defines the overall mood and tone of your narrative.
Evoke emotion
Which brings us to how sound effects can be (perhaps!) the most important tools for developing suspense. Whether you're shooting a horror project, a comedy, or even a corporate video, suspense (or setup-and-payoff interactions) is at the heart of truly watchable projects. Sound effects build upon onscreen information while also fueling speculation about what's happening offscreen.
​
Sound effects can activate emotionally powerful memories, both good and bad. The sound effect of rain can evoke memories of a relaxing day spent at home, while the sound effect of thunder may induce memories connected with combat experience, as seen in post-traumatic stress disorder.
Story Development
By the same token, sound effects, used properly, can become a powerful storytelling tool. Transitions are great, but sound effects can also give your audience vital information about what is happening in your film. From the sound of a nearby twig breaking to an inopportune knock on the door, sound effects can be just as powerful as any visual dynamic — and sometimes even more so.
With sound effects, the viewer gets more involved with the movie. … Many times when filming a scene with multiple actions going on at the same time, such as dialogue, sword fighting and other background action, sound effects are added post production to make the effect louder.
Suspense
First and foremost, if you want to present a clear and well-defined world, you need to use every element at your disposal. You take great pains to make the lighting look authentic and to decorate sets just right — not to mention directing authentic performances — so you need to pay the same attention to sounds.
From footsteps that match an actor's shoes to the subtle sounds of wildlife to humming streetlights and distant traffic, sound effects are a great way to bring more realism to your project.
A sound effect (or audio effect) is an artificially created or enhanced sound, or sound process used to emphasize artistic or other content of films, television shows, live performance, animation, video games, music, or other media. These are normally created with foley. In motion picture and television production, a sound effect is a sound recorded and presented to make a specific storytelling or creative point without the use of dialogue or music.
53 Categories
Cinematic Sound FX
Ambiance Sound
Atmospheres
Atmospheres extra pack
Absorb
Boom
Braaam
Build Mixer
Camera Sound
Clock Sound
Cinematic
Clash
Crowd
Cymbals
Drones
Fall
FlyBy
Hit
Cinematic Ambiance
Household
Cinematic Horn
Humans
Low-Hits
Machines
Rhythm
Risers
Risers whooshes
Short Kits
Surroundings
Technology
Transitions
Typewriter
Vehicles
Weather
Whooshes
Endless
Moments
Cinematic Opener
Scary
Big Sound Effects Library
9GB of content provides a massive, rich sonic palette to help you realize your creative vision.
Bring professional depth to your video and audio projects with sound effects library from Paramount Motion. From videos, commercial, short movies to podcasting, choose from hundreds of royalty-free sound effects that let you bring new tones, moods, or a touch to your idea.